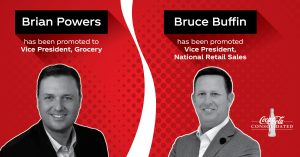 Coca-Cola Consolidated is pleased to announce the promotion of Brian Powers and Bruce Buffin to Vice President roles on the Customer Management team.  These proven leaders bring decades of extensive customer management experience and will position Coke Consolidated to navigate the rapidly changing customer and market landscapes.  
Brian Powers, a 16-year Coke Consolidated veteran, has been promoted to the position of Vice President – Grocery. In his new role, Powers will lead all aspects of the Grocery Team championing both the customer and business to drive value and deliver exceptional results.  
"I am humbled to be appointed as Vice President of Grocery," said Powers. "This is a great opportunity to lead a talented and passionate team to deliver excellence and innovation in every interaction with our customers." 
Bruce Buffin, a dedicated professional with over 27 years in the Coca-Cola system, has been promoted to the position of Vice President, National Retail Sales. In his new role, Buffin will lead the Walmart, Target, Value, Drug and eCommerce teams during a period of customer and consumer transformation.  
 "I am honored and excited to take on this role of Vice President of National Retail Sales," said Buffin. "I look forward to continuing work with the Consolidated family to further improve how we serve the world's best brands and flavors to our communities."   
Please join us in congratulating Brian and Bruce on their well-deserved promotions. The experience, leadership, and passion they bring to their new roles will help position our Company for growth and strong results.  
Share this story!