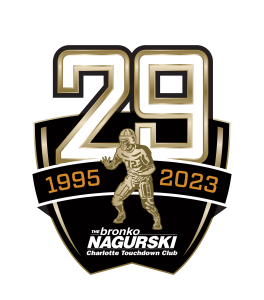 CHARLOTTE, NC – Today, the  Charlotte Touchdown Club  announced a multi-year sponsorship agreement with  Coca-Cola Consolidated for its annual  Bronko Nagurski Trophy  and  Awards Banquet. 
The Bronko Nagurski Trophy, created in 1993 by the  Football Writers Association of America,  is awarded annually to the best all-around defensive player in college football and is presented by the Charlotte Touchdown Club during the Bronko Nagurski Award Banquet held each year on the first Monday in December.  
This year's event will be held at the Charlotte Convention Center and net proceeds benefit the Charlotte Touchdown Club Scholarship Fund.  Finalists for this season's Bronko Nagurski Trophy will be announced on November 16th.  For ticket information call 704-347-2918 or visit www.touchdownclub.com 
 The Touchdown Club and Coke Consolidated partnership kicks off with the 2023 Bronko Nagurski Awards Banquet set for Monday, December 4  featuring keynote speaker  Sonny Dykes -  Head Football Coach at Texas Christian University and the 2022  National Coach of the Year.  CBS Sports Studio Host,  Adam Zucker, is slated as Master of Ceremonies and Clemson University's  Jeff Davis, from the class of 1981, will also be honored as the 2023  Legends of the Year Award recipient. The recipient of the  Defender of the Nation Award will be announced on October 26th. 
"On behalf of everyone associated with the Charlotte Touchdown Club, we are excited and honored to welcome Coca-Cola Consolidated on board as presenting sponsor for the Bronko Nagurski Trophy and Awards Banquet," said  John Rocco, Touchdown Club Executive Director.  "Thanks to Coca-Cola Consolidated's support, we look forward to continuing our mission of supporting athletics at all levels across the Charlotte, North Carolina region and to beginning a new partnership with Brookstone Schools whose mission is to equip under-resourced students academically, socially, and spiritually for future lives of leadership and service."  

"As Charlotte's local bottler, we are committed to giving back to the communities we live in and serve," said  Heather Hucks, Vice President of Consumer Connections at Coca-Cola Consolidated. "This new partnership with Charlotte Touchdown Club amplifies student athletes in our local community who embody citizenship, leadership and sportsmanship preparing them to be fantastic community leaders both on the field and off the field."   
The  Bronko Nagurski Trophy is a member of the National College Football Awards Association (NCFAA), which was founded in 1997 as a coalition of the major collegiate football awards to protect, preserve and enhance the integrity, influence and prestige of the game's predominant awards. The NCFAA encourages professionalism and the highest standards for the administration of its member awards and the selection of their candidates and recipients. For more information, visit the association's official website,  www.NCFAA.org. 
Founded in 1941, the  Football Writers Association of America  consists of journalists, broadcasters, publicists, photographers and key executives in all areas of college football. The FWAA works to govern media access and game-day operations while presenting awards and honors, including an annual All-America team. For more information about the FWAA and its programs and initiatives, contact Executive Director Steve Richardson at 214-870-6516 or tiger@fwaa.com. 
Share this story!